Well, praise the Lord for the nice Christmas for me today. Probably it's nice for me just because I don't fancy much on the presents. What's important is the abundant joy and peace in my heart.
This year I only attend the morning Mass as there's no midnight Mass in Chinese. I can see the baby Jesus in the manger early in the morning, in which I was feeling great! The carols were nice, and the entire Mass was simple but meaningful. With Fr. Gabriel's sermons, I can now more understand (only some) mysteries of the Incarnation of the Word of God. It's entirely out of God's Love.
After Mass I went to see the crib again. How much joy! How much hope! How wonderful, because the baby Jesus is the King of the Universe, the supreme Judge, and he is God, yet deigned to come to save us! That's why much mixture of emotions to me rushed to my heart that time.
This is kinda special....
After that I received many SMS wishes while on the way for breakfast, and sent (or forwarded) quite a lot too. Thanks for those who remembers me lo! Anyway, I didn't expect any presents, as Christmas to me certainly NOT based from presents, or Santa Claus, or snow flakes..... It's always about the birth of my Lord.
Quite sad about how Christmas meaningfulness has deteriorated due to much secularism. I don't heard "Merry Christmas" from the State's website, instead it's "Happy Holidays." Everyone's waiting (so to say) for Santa Claus (as if it exists) or others for presents, everyone's crazy about Christmas parties. Moreover, I don't like the short form of Christmas. (No need I write it here eh?) The X to me is mockery to Christ, it's a rejection of Christ.
But then I would always want to keep hopeful. That's why Christmas is celebrated right?
At home, I didn't really do anything, except spending long hours on playing games. Prayers are still vital to me in relishing this feast. Later I took a long nap. No visitations whatsoever.
After some time, whole family woke me up to have a small Christmas celebration. We had so much fun doing BBQ behind my house!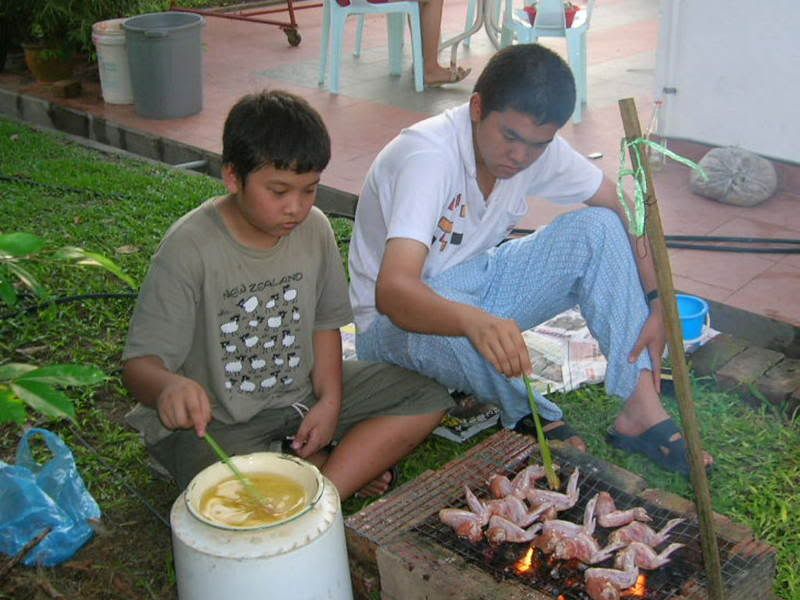 Bro and me cooking. Look at me wearing pyjamas slacks, LOL
Chicken wings on fire....
Lamb chops looks so tasty...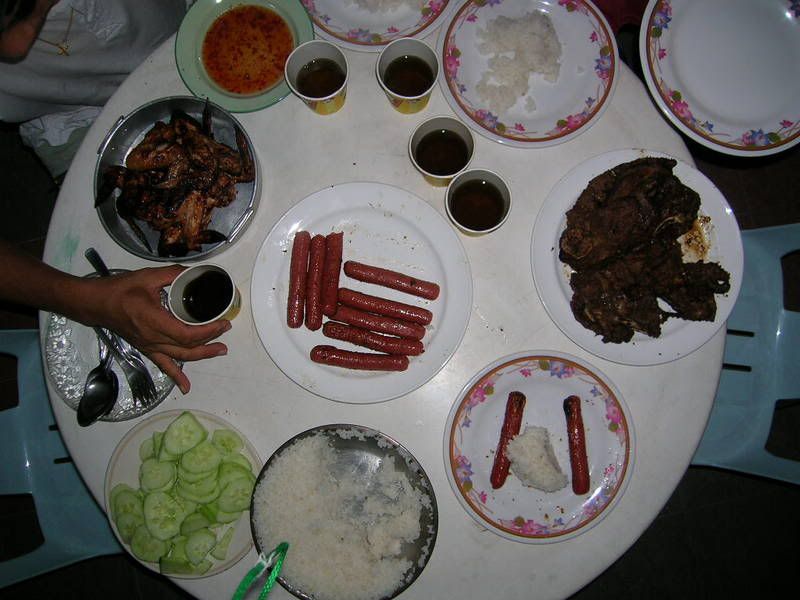 Dinner's ready!
Though many mosquitoes outside there, it's very enjoyable and we were all satisfied. I still can remember the rich food aroma now....

At night it's very relaxing. Just now spent time on reading Bible, so as enable me to write the previous posts. Christmas season will continue all the way till Epiphany (Jan 7) next year, so don't think Christmas is already over! It's far from over!

Oh ya, school's band was already off to Hong Kong! Wonder where they are now. Hope they can perform at their best there, and make our school and country proud!

Christmas is always very very very meaningful, never take the birth of Christ for granted, for His love is so great for us.

Merry Christmas!