I have just back from the 3-day-community service at Chuping. For me, to be frank, it's not really community service as it claims to be. It's really more to be a VACATION, where we're well fed and not doing much work. LOL
Well, for this whole week, I just wanna keep smiling. Just like this.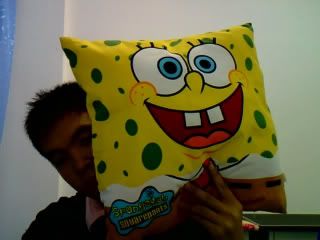 OK, laugh at me now. LAUGH. NOW.
I bought this cute Spongebob pillow at
Padang Besar
, a small town before the Malaysia-Thailand border. For RM10 only, I think it's a good bargain. Hahaha... And oh ya, if you would like to buy you many cheap branded stuffs from there, just drop me a mail or call.
I am really nervous now because normal lectures will resume tomorrow. I hope I can cope this immense pressure.
God bless you all!